Paint.NET x64/x86 Multilingual Free download.
Description
Paint.NET is a free software for editing images. Originally designed as a replacement for the Windows paint program, it has grown to become more and more popular and has now become a professional image editor. With paint.net you can adjust the size of images, their resolution, different effects and more. Like Photoshop, there are also layer concepts and blending layers in this software. It is also possible to add new features using plugins for this application.
In this application you can draw a variety of shapes and geometric images. Like Photoshop, it is possible to magically select parts of the image. For example, a red apple that is very different from its background can easily be selected by Magic Wand. One of the features of image processing programs is to save all the steps and disasters that you bring to the photos. paint.net also saves the complete history of the changes and you can go back anytime with a single click. It's free so you can update it safely and enjoy the latest features and enhancements. This software has been very good in terms of performance and processing speed, and because of parallel processing and proper coding, it has a good speed.
Features and Features of Paint.NET:
Completely free and with automatic updates

High speed in processing and editing images

Ability to use layers for complex edits

Various effects

Professional tools for selecting images and removing objects from the background

Save changes to history and the ability to go back at any time

Various settings to fully customize the app

And …
required system
Paint.NET Compatibility:
Minimum Requirements
Windows 7 with SP1 or newer (including Windows 8, 8.1, and 8.1 Update 1)
.NET Framework 4.6 (this will be installed automatically if not present).
1GHz processor (dual-core is recommended)
1Gb RAM
1024 x 768 screen resolution
200+ MB hard drive space  
Pictures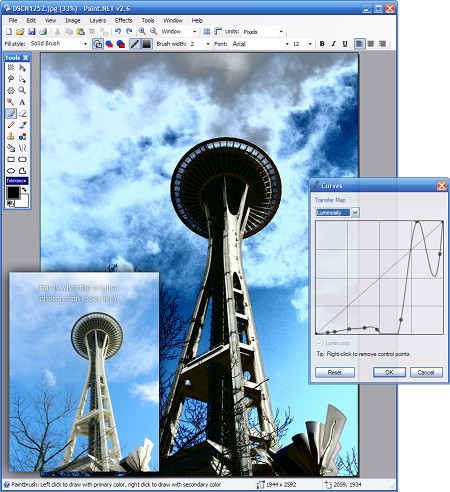 Installation guide
This software is free.
Download link
Download Paint.NET 5.0.12 Multilingual x64
Download Paint.NET 5.0.11 Multilingual x64
Download Paint.NET 5.0.10 Multilingual x64
Download Paint.NET 5.0.9 Multilingual x64
Download Paint.NET 5.0.8 Multilingual x64
Download Paint.NET 5.0.7 Multilingual x64
Download Paint.NET 5.0.6 Multilingual x64
Download Paint.NET 5.0.5 Multilingual x64
Download Paint.NET 5.0.4 Multilingual x64
Download Paint.NET 5.0.3 Multilingual x64
Download Paint.NET 5.0.2 Multilingual x64
Download Paint.NET 5.0.1 Multilingual x64
Download Paint.NET 5.0 Multilingual x64
Download Paint.NET 4.3.12 Multilingual x86
Download Paint.NET 4.3.12 Multilingual x64
Download Paint.NET 4.3.11 Multilingual x86
Download Paint.NET 4.3.11 Multilingual x64
Download Paint.NET 4.3.10 Multilingual x86
Download Paint.NET 4.3.10 Multilingual x64
Download Paint.NET 4.3.9 Multilingual x86
Download Paint.NET 4.3.9 Multilingual x64
Download Paint.NET 4.3.8 Multilingual x86
Download Paint.NET 4.3.8 Multilingual x64
Download Paint.NET 4.3.7 Multilingual x86
Download Paint.NET 4.3.7 Multilingual x64
Download Paint.NET 4.3.6 Multilingual x86
Download Paint.NET 4.3.6 Multilingual x64
Download Paint.NET 4.3.4 Multilingual x86
Download Paint.NET 4.3.4 Multilingual x64
Size
58 MB